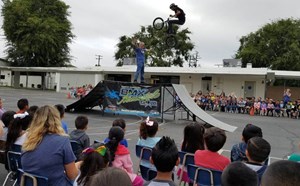 Clinton PTO sponsored a BMX assembly for Clinton students, congratulating them on their high achievement on the state test. Clinton Elementary School had an astonishing 15% increase in ELA and 10% increase in math of students meeting or exceeding sta…
Principal's Message
Welcome to Clinton Elementary where staff members are dedicated to providing a positive learning experience for all students through teamwork, problem solving, responsibility, and respect.
Clinton Elementary is a place where expectations are clear and effort and achievement are celebrated. The staff strives to create a safe and caring environment where students understand that school is a place for learning.
Our belief is that effective education results from a positive partnership of parents, students, community members, and staff. This partnership is built on a strong foundation of commitment to student achievement and continues to grow with open communication between home and school. Parents set the tone for their children's education by instilling the basic understanding that education and learning are important. You are a powerful influence in your child's overall academic success!
We would like to extend a special thanks to the many dedicated and supportive parents and community members who give of their precious time and energy to make school events, activities, and services possible. Clinton has a history of parent support and I invite you to get involved.
Thank you for your continued support and I look forward to working with you and the students throughout the year. If you have any questions, please do not hesitate to contact me at (714) 663-6146.
Sincerely,
Jason Shabet
Principal
Our School
Welcome to Clinton Elementary School where we face our academic endeavors as a united community!
Clinton provides all students with support to reach high academic standards.  Students engage in innovative technology use as part of daily instruction, with a Chromebook or iPad for all second through sixth grade students.  Clinton has launched a variety of after school programs to enhance students' educational experience. Our Boys & Girls Club is as active as ever, commencing everyday after classes. Intervention is offered by credentialed teachers before or after school to help all students succeed. Students receive extra support with math fluency and literacy skills during intervention sessions. Clinton Elementary School students take advantage of free after-school programs in math and reading, academic support for English learners, computer coding, and folklorico dance.
Clinton Elementary School's robust College Mentoring Program pairs elementary students with college students who serve as positive role models, provide help with school work, and promote positive self-esteem. Clinton is the first Garden Grove elementary school to launch a Friday Night Live program, providing students with a variety of exciting leadership opportunities. Clinton offers the award-winning Orange County GRIP program. This unique partnership with law enforcement provides tutoring, counseling, mentoring, scholarship incentives, and field trip incentives.
Our school is proud of our active PTO and all the work they do for our 560 students. Our hard working parents have helped organize ELAC meetings with assistance from the OC Grip program. They will work together this school year to coordinate several exciting events. 
As a school, we send a warm welcome to all students and families. We hope to have a productive and marvelous school year together!
Choose Clinton!
• Small class sizes with supportive teachers who help students reach high academic standards
• Innovative use of technology as part of daily instruction
• Powerful before and after school tutoring and enrichment opportunities, at no cost to families
• Friday school assemblies to celebrate student success and positive behavior
• Strong parent involvement through PTO and parent education meetings
• Exciting instrumental and choir programs to bring out the inner musician in students
• Annual field trips bring learning to life for Clinton students
• Nutritious breakfast and lunch and free fresh fruit and vegetable snacks to promote healthy choices